Special lines for punctual service in any season
Start Romagna, in some periods of the year and in some areas, apart from standard service, puts into operation supplementary lines in order to reach new destinations and expand the existing service provided.
Refer to the services proposed.
Currently there are no special open services.
Beach Shuttle
From Aprile 20th to September 1st
Parcheggio e autobus gratuiti nei week end e nei festivi dai parcheggi di Via Trieste e di Via del Marchesato per il lungomare di Marina di Ravenna e dal parcheggio di Via Trieste per il lungomare di Punta Marina Terme.
Linea 142 Arezzo - S.Mauro Mare
From July 1st to August 31st, daily.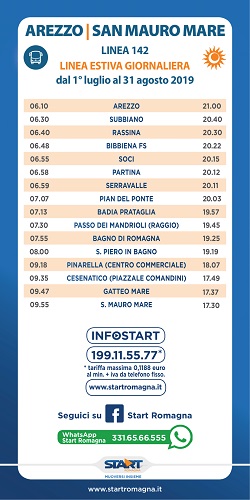 From July 1st to August 31st there is an everyday direct line from Arezzo to San Mauro Mare.
Comfortable direct bus line from Tuscany all the way to the Riviera, without the stress linked problems such as car driving and car park.
Tickets may also be purchased from the bus driver on board.
Free shuttle to Le Befane Shopping Center
From June 8th to September 1st