The Start ferry is put into operation between the areas of Marina di Ravenna and Porto Corsini, through the Canal Candiano
Service is carried out through motor-ferries for the transport of people and motor vehicles (about 7.500 hours a year).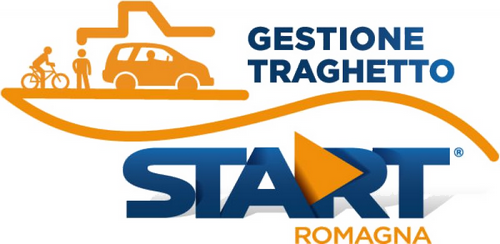 Service timetable
This service works every day, during the winter from 5:00 a.m. to 00:30 a.m.; in the summer from 5:00 a.m. to 2:00 a.m. In case of reduced traffic service is guaranteed with departures every 15 minutes to the utmost.

In case of severance due to bad weather or other causes, transfer of pedestrians from one shore to the other by means of buses on road is assured (with no extra charges as to Ferry Service fares).
In case of strike, normal ferry service is guaranteed in the following time slots as scheduled:
1st slot: from 5:30 a.m. to 8:30 a.m.;
2nd slot: from 12:00 a.m. to 15:00 p.m., with an interruption and subsequent resumption at the quay of Port Corsini.
Winter timetable
Until April 19th, service active daily from 5:00 am to 00:30 am.
Summer 2019 timetable
From April 20th to September 1st, the service is available from 5:00 am to 2:00 am.
Double afternoon ferry crossing service from 2:00 pm to 9:00 pm on 21-22-25-27-28 April, 1 May, 2-9-16-23-30 June, 7-14-21-28 July, 4 August.
Double evening ferry crossing service from 7:00 pm to 2:00 am on 1-8-15-22-29 June, 5-6-13-19-20-27 July, 3-10-11-12-13-15-16-17 August.
On the evening of August 14th, the double ferry service is available from 7:00 pm to 4:00 am.
Non stop ferry crossing service (only one ferry) from 2:00 am to 5:00 am on Saturday, from the night of June 1 to August 31, the nights of 25 April, 5 and 22 July and from 11 to 16 August.
Fares
To assure fast service before boarding, pedestrians, cyclists, motorcycles and hand trolleys may purchase tickets by the 8 slot machines installed on the ground; for such users, the tickets purchased on board will be charged more. Motor cars and motor vehicles pay on board with no extra charge.

Tickets and passes
From the moment tickets are issued, they are valid for 15 minutes and for only one crossing. Cards allow a number of specific rides to be made in 180 days.
Temporary passes are impersonal and allow unlimited crossings.
For pedestrians and cyclists, monthly and yearly passes are issued.
Cards for motorcycles, trolleys and light vans are valid for 40 crossings to be made in 180 days. There is also a six-month pass.
Passes for motor cars and trucks up to 3,5 tons are valid for 12 or 40 crossings to be made in 180 days. There is also a one month pass.
For bulky means of transport, a single ticket or a card valid for 40 crossings are provided.
Where passes may be purchased
All typology of passes and cards are sold at bank counters of Cassa di Risparmio di Ravenna in Marina di Ravenna and BPER - Banca Popolare dell'Emilia Romagna in Port Corsini (apart from coastline shops licensed by Start Romagna).
Service Information
Information concerning service is displayed by the quay and crafts (timetable, rates, types of tickets, etc.). Customers are promptly informed of any possible service severance due to strikes at five days notice.
Regulation for Ferry navigation
Regulation for Ferry navigation between Porto Corsini and Marina di Ravenna is available from this link.