Timetable and services
Metromare
Metromare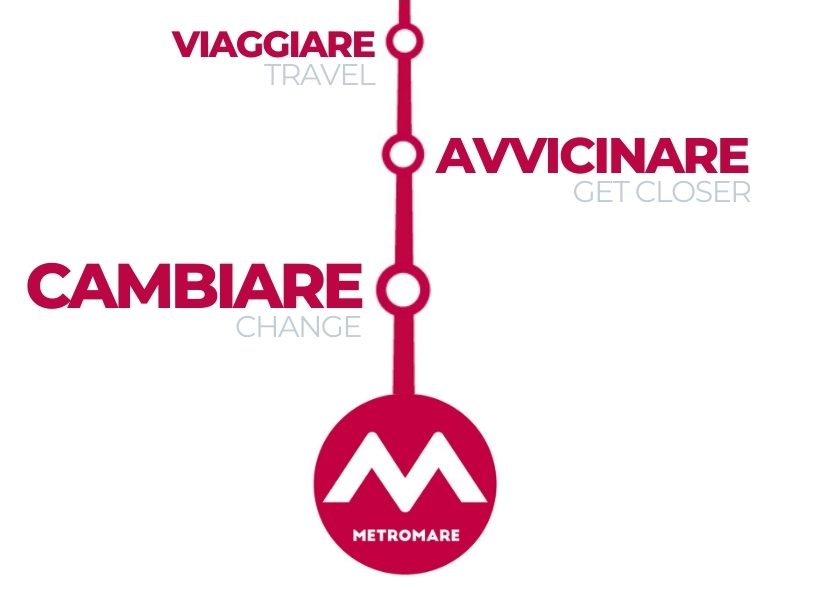 METROMARE TIMETABLE
every day, every 15 or 30 minutes
23 minutes from Rimini to Riccione (and vice versa) and pick-up and drop-off at 15 intermediate stations.
---
Metromare, for a more sustainable mobility system. Fast, reliable, eco-friendly, safe, hi-tech and silent, connecting places, people and ideas. Connecting the Riviera to the world.
Metromare is the new public transport system that connects Rimini and Riccione. It is a key strategic project that will help to redesign mobility on our territory.
This will enable us to adopt new habits that integrate how we use traditional means of transport – bicycles, cars, buses – with alternative systems, like car or scooter sharing, public transport interchange hubs and bicycle and pedestrian paths.
Metromare is a central piece of this new mosaic. It is eco-friendly, quick, safe and hi-tech.
Road buses with low environmental impact – soon to be fully electric – will take passengers from Rimini to Riccione and back again in just a few minutes, passing through 15 intermediate stations, new poles of attraction. Just like on overground metro, with frequent and reliable connections.
By using Metromare you'll help to redevelop the urban fabric, improve the quality of life and help everything around you breathe better.
METROMARE TICKETS
If you want to travel between Rimini Train Station and Miramare Airport:
RIMINI URBAN AREA TICKET
€ 1,50
€ 2,00 on board
SPECIAL PRICE from the App € 1,30
If you want to travel between Riccione Train Station and Miramare Train Station:
1-ZONE TICKET
€ 1,30
€ 2,00 on board
from the App € 1,30
If you want to travel the entire Metromare line
2-ZONE TICKET
€ 2,10
€ 3,00 on board
from the App €2,10
Also on Metromare you can buy your ticket on board by using a contactless payment card without any overprice. Click the button here below to get more informations.
---
TRAVELLING IN LINE WITH REGULATIONS
• Buy tickets before boarding or on board (with surcharge).
• Validate tickets as soon as you get on board and check they have been validated so as not to incur any penalties.
• Notify the driver immediately if the validating machine is not working properly.
RULES AND SAFETY
• Hold on to the appropriate holders or rails.
• Notify the driver immediately of any accidents.
• Beware of pickpockets.
• Do not obstruct the boarding/alighting doors.
• Place wheelchairs in the space provided.
• The smoking ban on board extends to electronic cigarettes.
• Reach the stopping bay by following the signposted footpaths.
• Do not cross the yellow line and watch out for vehicles approaching the bay.
• Comply with all safety signage.
• In an emergency and in dangerous situations, speak to service personnel and if there are none, use the SOS intercoms on each stopping bay.
•There is CCTV at every stop, manned by the Central Control Station.
NON-REFUNDABLE TICKETS
Tickets sold/issued are not refundable, but at Start Romagna Bus Points they can be exchanged for other tickets of the same or a higher value, subject to payment of any price difference if applicable.
Do you need more Info? Check here the FAQs
How much does it cost the ticket Rimini – Riccione? And how much for shoter routes?
Fares for local public transport services are calculated on the basis of the number of fare zones crossed.
https://www.startromagna.it/titoli-e-tariffe/la-tariffazione-a-zone/
Tickets for the complete Rimini – Riccione route need to cover 2 zones and cost € 2.10 (2-zone green ticket). Tickets are valid for 75 minutes and can also be used on other lines, providing they are within the zone validity area.
If a journey takes place within the urban area of Rimini, between Rimini train station and Miramare Airport, the benchmark fare is for the urban area of Rimini (red ticket € 1.50, valid for 75 minutes), while if a journey takes place between Riccione train station and Miramare train station the cost is € 1.30 (1-zone yellow ticket, valid for 60 minutes).
For more details: https://www.startromagna.it/titoli-e-tariffe/biglietti/
Where can I buy the tickets?
Tickets for travelling on the service can be bought from bars, newsagents' kiosks, tobacconists and other businesses displaying the BUS TICKETS sticker.
• Start Romagna ticket offices:
Rimini Bus Point, via Clementini 33;
Rimini ticket office (train station), p.le Cesare Battisti;
Riccione Bus Point, piazzale Curiel.
Click here for further details
• Automatic ticket machines:
Rimini, piazzale Cesare Battisti (train station);
Rimini, capolinea Metromare Rimini FS;
Riccione, piazzale Curiel;
Riccione capolinea Metromare Riccione FS.
For further details: https://www.startromagna.it/titoli-e-tariffe/biglietti-da-emettitrici/
Are tickets also available on board? Does a surcharge apply?
Tickets can also be purchased on board, with a surcharge, from automatic ticket machines that allow payment in cash or by debit/credit card. These automatic ticket machines do not give change. Tickets issued by on board automatic ticket machines do not require validation.
Tickets can also be purchased from the driver providing you use coins or small denomination notes (maximum € 10); tickets purchased from the driver must be validated in the on-board validating machine.
The cost of tickets with surcharge:
– 1 zone, € 2.00;
– 2 zones, € 3.00.
Tickets can also be purchased without any overprice by using a contactless payment card : StarTap.
Can I use a season ticket on Metromare?
Yes, monthly and annual season tickets valid for the areas covered by the Metromare service (e.g. Rimini urban area, Riccione urban area, Rimini-Riccione 2 zones, Rimini-Cattolica 3 zones, Bellaria-Riccione 3 zones, etc.) can be used on the Metromare service.
Season tickets are personal and allow holders to travel using several different means within the chosen route.
Like other tickets, season tickets must also be validated in the validating machine on board every time a bus is boarded.
Where do I buy season tickets? How much are they?
Can I buy tickets on line?
Yes, buying via smartphone is easy and possible at any time thanks to the special DropTicket, myCicero, Muver and Roger apps.
Are special rates for the disabled available?
Are family or group discounts available?
There are annual season tickets available for large families or vouchers for groups of 11 people or more; a 10-ride book of tickets offers a discount on the ordinary fare and can even be used by several people at the same time, up to a maximum of 7 (1 validation per passenger).
What time does the service operate?
The service operates every 20 minutes from 6:30 a.m. to 2:00 a.m.; it operates every day, including holidays.
From Rimini the first bus leaves at 6:36 am and the last bus leaves at 2:04 am
From Riccione the first bus leaves at 6:30 am and the last bus leaves at 2:10 am.
The route between Rimini Station – Riccione Station is completed in about 23 minutes.
Where can I check timetables and get more information?
Is there an app that shows the various stops and routes?
Moovit is smartphone app that is very popular worldwide and can show stops, timetables, routes, maps, customised alerts and step by step navigation, with the possibility to receive alerts and notifications for preferred lines.
In addition to Moovit, information about Metromare is also available on Google Transit. The real-time timetables of the departing races are available at this link: http://metromare.startromagna.it./
Can baggage be taken on board?
Only one piece of baggage measuring no more than 50x20x25 cm and weighing no more than 10 kg may be carried free of charge by each passenger. For any other luggage or large parcels passengers bring with them, within the maximum total weight limit of 20 kg and not exceeding 50 cm in height and/or width, they will be required to buy a valid ticket for the route for the luggage or parcel itself even if they are season ticket holders.
Any baggage or parcels larger than that are not permitted on board.
All baggage is carried at the sole responsibility of the passenger and must not occupy any seats.
Loading and unloading or baggage are the responsibility of the passenger and at their risk.
Can I bring a pushchair on board?
Pushchairs and strollers are transported free of charge, but they must be folded in such a way as to reduce their size to a minimum and must be immobilised so as not to cause danger, obstruction or inconvenience to other passengers.
For details, please refer to Art. 7 of the Start Romagna Travel Regulations.
Start Romagna S.p.a. is in any case also exempt from any obligation and responsibility for the care of minors and any damage caused by them to third parties transported.
Can I get on board in a wheelchair?
Are bicycles, scooters or skateboards allowed on board?
Access on board Metromare vehicles with bicycles, scooters or skateboards is allowed only if the dimensions of the vehicle being transported are within the limits permitted by the Travel Regulations (Art. 10 Transport of Baggage).
Are dogs or other animals allowed on board?
Transport of animals is prohibited except in the following cases:
1) Guide dogs for the blind, which are allowed to travel free of charge and without a muzzle, provided they are kept on a leash;
2) Other dogs, provided they are not too large, are wearing a muzzle and are kept on a leash, subject to payment of a valid ticket for the journey;
3) Other small animals, such as cats, hamsters or birds, provided they are put in suitable transport carriers, subject to payment of a valid ticket for the journey.
For details, please refer to Art. 11 of the Start Romagna Travel Regulations.
How do I get to the airport from the Miramare Airport bus stop?
After alighting at the Miramare Airport stop, walk along a short stretch of Via Cavalieri di Vittorio Veneto to the crossroads with Via Mosca where the 9M line to the airport runs.
The journey time is about 5 minutes (buses run approximately every 30 minutes). Otherwise, it is about 20 minutes on foot.
Is there Wi-Fi on board?
At the moment the Wi-Fi is being tested and is reserved for service activities only, we will subsequently communicate how to access it.
Is CCTV in use?
All the stops along the Metromare route are monitored and there is also a CCTV system on board
Are the stops request stops?
On the Metromare route, buses stop at every stop along the route.
How can I highlight any dangerous situations that may occur?
At each Metromare stop there are SOS intercoms that permit communication with the manned Central Control Station; they should only be used in an emergency.