MHyBus project
The project, which began in 2009 and involves Aster, Start Romagna, ENEA and SOL with the leadership of DG Reti infrastrutturali (DG infrastructural network), logistics and mobility systems of the Emilia-Romagna Region, has one main objective, that is of realizing a prototype bus meant for the city route, powered with a mixture of hydrogen-methane (hydromethane), taken from a bus powered with methane. Furthermore, the project aims at obtaining the authorization of having the vehicle circulate on road.
Realizing the first prototype, authorized to circulate and meant for public service, should make it easier to subsequently convert part of the public transport fleet from methane to hydrogen-methane and by doing so, introduce benefits as to local air quality: it is in fact proven that by using this mixture, there is a reduction in local air pollutant emissions (in particular Carbon Monoxide and Nitrogen Oxide).

The bus is now in Ravenna where SOL (Italian multinational company leader in the production of technical gases) has established on its grounds a hydrogen-methane experimental station and where day-to-day refuelling takes place. Start Romagna, the public transport company of Ravenna, Forlì, Cesena and Rimini, has successfully completed the first 5,000 miles road test without passengers on board and, having successfully passed this first phase, it has now gotten to the heart of the experimental stage by carrying out regular service for users. ENEA will be responsible for the continuous monitoring of atmospheric emissions, vehicle energy performance and engine seal under the constant supervision of the Ministry.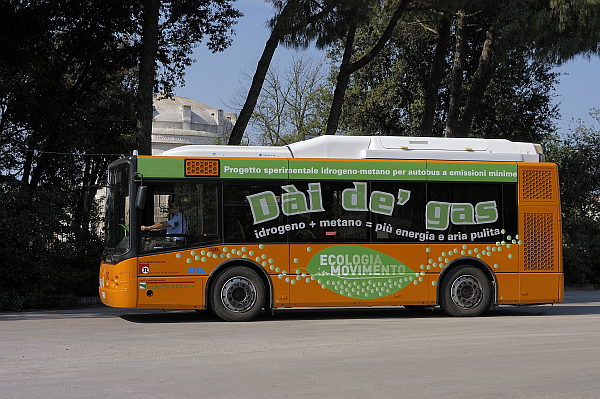 The first prototype
The use of the mixture with 15% hydrogen in volume (a mass of about 3%), leads to a significant reduction of greenhouse gas emissions compared to methane fuel. The easy application and repeatability of hydrogen-methane technology and, the resulting environmental benefits, make it particularly interesting to use in public transport, contributing to the reduction of emissions in cities, without having to make substantial investments on more complex technologies.